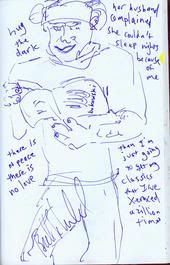 sketch by Chris King

NOTICE THE SIMILARITIES?
I did.
"I was an August day in Paris, on the Quai d'Orleans by the Seine. Hugo kept congratulating himself that this year he had postponed his departure to Deauville: the weather was fine and Magda quite entertaining. He did not like dining with pretty girls; at his age it was better to keep his pleasures separate. For a lunch like this what he needed was a hard-boiled, cynical old American, such as Magda, who appreciated her food and had good taste in wine. She admired him, but that left him indifferent: he had always been admired for his taste, his wealth, his splendid collection of porcelain, his knowledge of ancient Greek writers, his generosity, and his intelligence. He did not need other people's admiration, yet Magda amused him. It was better, and more unusual to be amused than loved.
"Egoist"
"A weeping young woman had called him that once. The sensual memory of her tears still touched his heart pleasurably: she had been so young and so beautiful. He had been young then, too. Egoist…he might have replied that in this world of mad, brutal men and their stupid victims, the only harmless people were egoists like him. They did not hurt anyone. All the misery suffered by human beings, thought Hugo, is unleased by those who love others more than themselves and want that love to be acknowledged."
From THE SPECTATOR By Irène Némirovsky
THE GENIUS OF THE CROWD by Charles Bukoski
there is enough treachery, hatred violence absurdity in the average
human being to supply any given army on any given day
and the best at murder are those who preach against it
and the best at hate are those who preach love
and the best at war finally are those who preach peace
those who preach god, need god
those who preach peace do not have peace
those who preach peace do not have love
beware the preachers
beware the knowers
beware those who are always reading books
beware those who either detest poverty
or are proud of it
beware those quick to praise
for they need praise in return
beware those who are quick to censor
they are afraid of what they do not know
beware those who seek constant crowds for
they are nothing alone
beware the average man the average woman
beware their love, their love is average
seeks average
but there is genius in their hatred
there is enough genius in their hatred to kill you
to kill anybody
not wanting solitude
not understanding solitude
they will attempt to destroy anything
that differs from their own
not being able to create art
they will not understand art
they will consider their failure as creators
only as a failure of the world
not being able to love fully
they will believe your love incomplete
and then they will hate you
and their hatred will be perfect
like a shining diamond
like a knife
like a mountain
like a tiger
like hemlock
their finest art